Solar Water PV Pump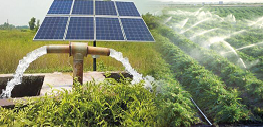 This Solar Pump controller can be used on any AC 3 phase pump, whether Monoblock or Submersible Pump of given HP as per rating.
The solar pump controller is housed in powder coated, rugged MS enclosure of 1.6mm sheet. It is designed with MPPT technology to maximize water delivery at various solar energy levels. The pump controller can take solar power input and give three phase ac output to the ac pump such that when full solar power is available the motor will run at full rated speed and when it is cloudy or in the morning/evening
(i.e when solar power is limited) it will run at lower speed proportional to the availability of solar energy. It has arrangement to also accept three phase ac input from grid so that you can run the pump at full speed with solar preference mode whenever solar energy is not available sufficiently.
Technical Specification
MODEL
2 HP
3 HP
4.6 HP/ 5HP
7.5 HP
10 HP
INPUT-ARRAY OF PV PANEL
Nos. of PV panels in series of suitable wattages such that Vmp should be within range of 380-650V and Voc does not exceed 750V
Total Panel Wattage Wp (approx)
2000W
3000W
4800/5000W
7500W
10000W
Max PV Volt (Voc)
750V
750V
750V
750V
750V
MPPT Range (Vmp)
380-650V
380-650V
380-650V
380-650V
380-650V
OUTPUT
380v TO 440 VAC
PROTECTIONS
Lightning(MOV)
YES
YES
YES
YES
YES
Panel Reverse Polarity (PV)
YES
YES
YES
YES
YES
Short Circuit (PV)
YES
YES
YES
YES
YES
Over Load (O/P)
YES
YES
YES
YES
YES
Over Voltage
YES
YES
YES
YES
YES
DIMENSION
310W X 250D X 500H mm * dimension subject to change
ENCLOSURE
MS Powder coated
OPERATING TEMP
0-50 deg C